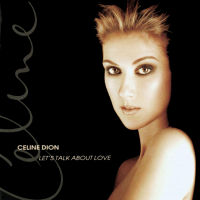 Celine Dion: Let's Talk About Love
Sony
1997
Spend seventy minutes with Celine Dion? Why not--she's nice looking, and she has a pleasant personality and an interesting life story. Oh, you mean spend seventy minutes with her music. That's a different story. But, fortunately, it's easier to do that with Let's Talk About Love than Dion's other releases--including the 1996 Grammy winner Falling Into You. The new album is Dion's sharply designed opus, from its wealth and breadth of material to such marquee guests as Barbra Streisand ("Tell Him"), Luciano Pavarotti ("I Hate You Then I Love You"), the Bee Gees ("Immortality"), and Carole King ("The Reason").
Even the behind-the-scenes players--the producers, writers, and studio musicians--are top-drawer, and one song, "My Heart Will Go On," is slated as the love theme for the much-hyped film Titanic. At this point, Dion has reached the top and isn't planning on going anywhere. And with a voice like hers, and the weapons she's been afforded here, she won't have to.
Vocalizing more than emoting, Dion soars over even the plushest arrangements across the album's fifteen songs. She jumps with assurance from the torchy balladry of "The Reason" and "Why Oh Why" to the dancehall-styled "Treat Her Like a Lady" (with the wonderful Diana King co-writing and singing), the disco-fueled "Just a Little Bit of Love," and the gospel-tinged "Love Is on the Way." The duets with Streisand and Pavarotti fall victim to self-consciousness on the part of all parties, but then Dion turns around and makes a basic mid-tempo pop song like "Miles To Go (Before I Go To Sleep)" sound like a blockbuster. Though she's already a Grammy winner, Let's Talk About Love may be the album that truly establishes Dion's dominance in the crowded field of pop divas.
Gary Graff
Wall Of Sound
Album Tracks

| | |
| --- | --- |
| 1 | Reason |
| 2 | Immortality |
| 3 | Treat Her Like A Lady |
| 4 | Why Oh Why |
| 5 | Love Is On The Way |
| 6 | Tell Him |
| 7 | When I Need You |
| 8 | Miles To Go (Before I Go To Sleep) |
| 9 | Just A Little Bit Of Love |
| 10 | My Heart Will Go On |
| 11 | I Hate You Then I Love You |
| 12 | Let's Talk About Love |
| 13 | Where Is The Love |
| 14 | To Love You More |
MUSIC PAGE
HOME
Comments