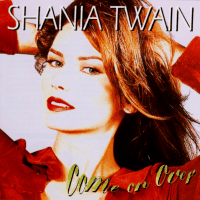 Shania Twain: Come On Over
Sony
1997
The thinking must have gone like this: If acting like a 21-year-old resulted in Shania Twain's selling 9 million albums, then maybe parading as a 14-year-old would up the ante.
With her third album, country music's best-selling spice gal stays on a steadily regressive course. Collaborating again with her husband, veteran rock producer Robert "Mutt" Lange, Twain issues a bouncy collection of simplistic songs that approach love with an innocence that comes across as ingenuine.
Throughout, Twain strains to sound hip by injecting her lyrics with what she apparently believes is youthful slang. For example, in "Don't Be Stupid (You Know I Love You)", she rebukes a jealous boyfriend by telling him to "take a pill" and "don't freak out ... just relax, Max."
She constantly equates young with being naive and silly, thereby condescending to the audience she seeks. Worse yet, the women in her songs repeatedly suggest that their only ambition in life is to find a guy. On "I'm Holding On to Love (To Save My Life)", she sings blithely, "I don't need to get all caught up on the Net/'Cause I'm already set/Can't you understand/Already got my man."
Part of the success of Twain's previous album, The Woman in Me, came from her ability to turn complex emotions into fun, upbeat songs built on a fresh blend of pop and country instrumentation. That freshness and complexity are missing here, replaced by artlessness and calculation.
Michael McCall
Microsoft Music Central Online

Album Tracks

| | |
| --- | --- |
| 1 | Man! I Feel like A Woman! |
| 2 | I'm Holdin' On To Love (To Save My Life) |
| 3 | Love Gets Me Every Time |
| 4 | Don't Be Stupid (You Know I Love You) |
| 5 | From This Moment On |
| 6 | Come On Over |
| 7 | When |
| 8 | Whatever You Do! Don't |
| 9 | If You Want To Touch Her, Ask! |
| 10 | You're Still The One |
| 11 | Honey, I'm Home |
| 12 | That Don't Impress Me Much |
| 13 | Black Eyes, Blue Tears |
| 14 | I Won't Leave You Lonely |
| 15 | Rock This Country! |
| 16 | You've Got A Way |
MUSIC PAGE
HOME
Comments